Units 15-16
Ford Lane Business Park
Ford Lane
BN18 0UZ
Portable, non-destructive testing of concrete.
More info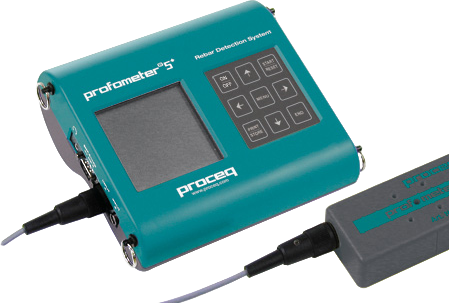 Hire or Buy Today! Call 01243 555 720
Overview
The location of and the measurement of the depth of reinforcing steel embedded in concrete may be determined using simple battery powered meters.
Hammond Concrete hire a variety of cover meters, some of which may also estimate bar size, log data and/or provide 2-D visual display of reinforcement layout.
Manufacturers and models include:
Protovale : Elcometer : Proceq : Hilti
CM52 : Model BH : Model SH : Profometer : Profoscope : Ferroscan
Features
- Data logging and statistical evaluation
- 2-D display of steel layout
- Cover depth up to 185mm (manufacturer data)
- Diameter measurement up to a cover depth of 70mm
- Proximity indicator: optical and acoustic

Applications
- Location of embedded steel
- Depth of concrete cover to steel
- Determination of steel bar diameter

Please call us or email us to discuss your technical and commercial requirements: 01243 555 720